 DIFFERENT SIZES ZINC PLATING HOMEKITS

THIS STARTER ZINC KIT, WITH JUST 1 TANK AND 5 AMP RECTIFIER, OFFERS YOU ALL YOU NEED TO START CHEAP AND UPGRADE WHEN IT SUITES YOU
JUST R5 800, 00
5 LITER TANK (WITH 5 AMP RECTIFIER)
THIS PLANT IS SUITABLE
FOR SMALL COMPONENTS.
IT IS NOT SUITABLE FOR PRODUCTION.
SPACE REQUIRED FOR THIS PLANT:
APPROXIMATELY 800mm X 300mm
R9 800, 00
10 LITER TANKS (SMALL HOMEKIT)
R13 600, 00

THIS PLANT IS SUITABLE FOR PLATING MEDIUM SIZE COMPONENTS, WHEN YOU NEED
TO PLATE A FEW PARTS AT ONES.
THE SPACE REQUIRED FOR THIS PLANT: APPROXIMATELY 1,5m X 500mm
25 LITER TANKS (MEDIUM HOMEKIT)
ZINC ELECTROPLATING EXAMPLES
WHAT IS ZINC PLATING?
Zinc is a soft ductile electroplating which can be plated easily to bright chrome finish or yellow passivated to give long lasting corrosive protection.
This process is suitable for mild steel, brass, copper and tin.


Electroplate kits is available in different sizes.
The colour of the tanks may vary
R39 800, 00

THIS PLANT IS SUITABLE FOR SMALL TO MEDIUM PRODUCTION RUNS.
SPACE REQUIRED FOR THIS PLANT IS APPROXIMATELY
2m LONG X 850mm WIDE
50 LITER TANKS (INDUSTRIAL HOMEKIT)
30 AMP RECTIFIER
SMALL BARREL TO DO NUTS AND BOLTS R12 000, 00
R449 000, 00

THIS PLANT IS SUITABLE FOR LARGE PRODUCTION RUNS.
SPACE REQUIRED 6m X 5m
IT IS CAPABLE OF50 KG OF ELECTRO PLATED PARTS EVERY HALF AN HOUR
AN AVERAGE COST OF R3,50 PER KG
THIS WILL AMOUNT TO R2 800, 00 PER 8 HOUR SHIFT.
THIS CAN BE DOUBLED BY ADDING AN ADDITIONAL ZINC TANK AND RECTIFIER.
DIFFERENT TYPES AND SIZES OF CHEMCAL PLANTS AVAILABLE

NICKLE; COPPER; TIN; BRASS; GOLD; SILVER; ANODIZING; BRONZE; BLACK OXIDE; ALODINE; BARRELS (ANY SIZE)
ALSO AVAILABLE FOR NUTS AND BOLTS AND SMALL PARTS ETC.

ALL CHEMICALS AND POWDER COAT POWDER AVAILABLE HERE!!

POWDER COATING PLANTS ALSO AVAILABLE!!
PRICE:
PRICE:
PRICE:
PRICE FOR COMPLETE PLANT:
SCROLL
DOWN
1500 LITER TANKS (LARGE PRODUCTION PLANT)
7 KG BARREL
ZINC ELECTROPLATING
POLLY PROP BARRELS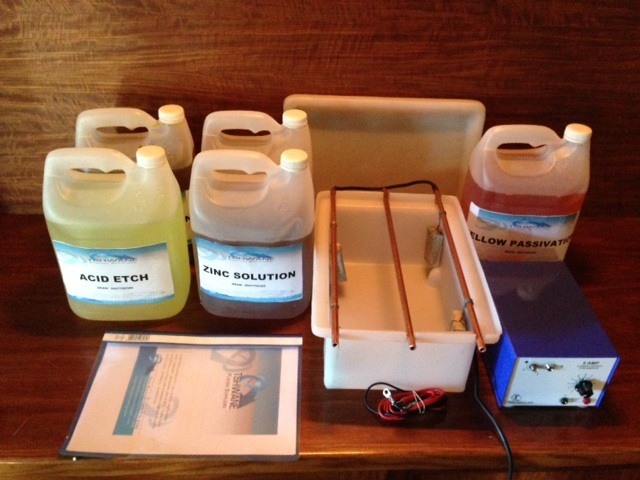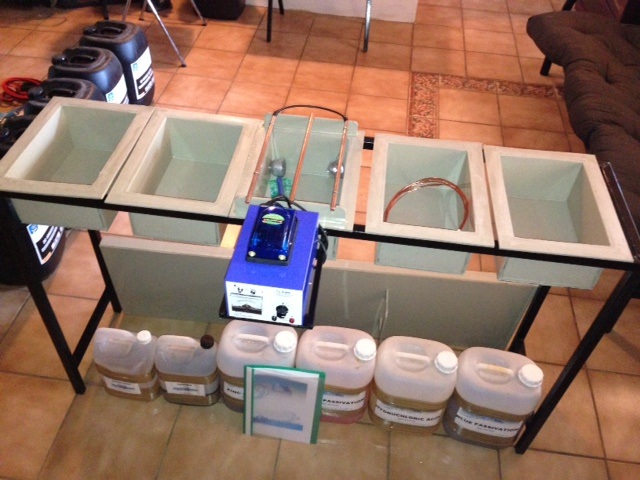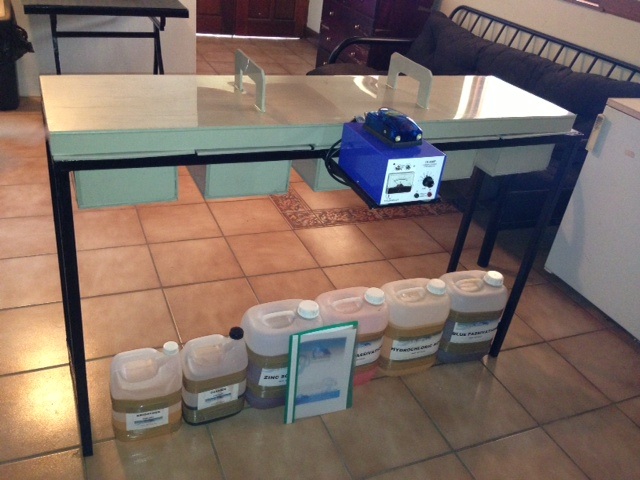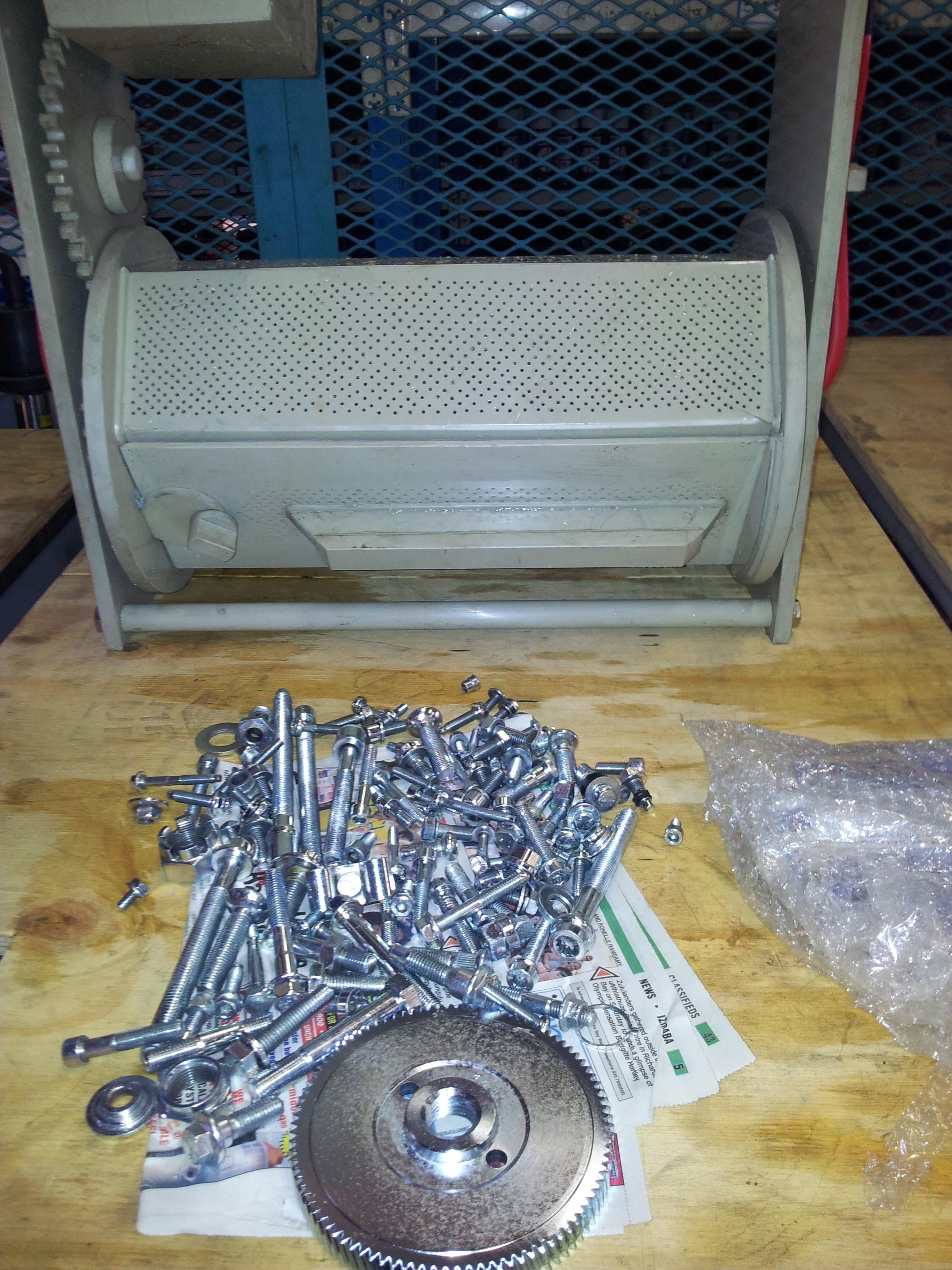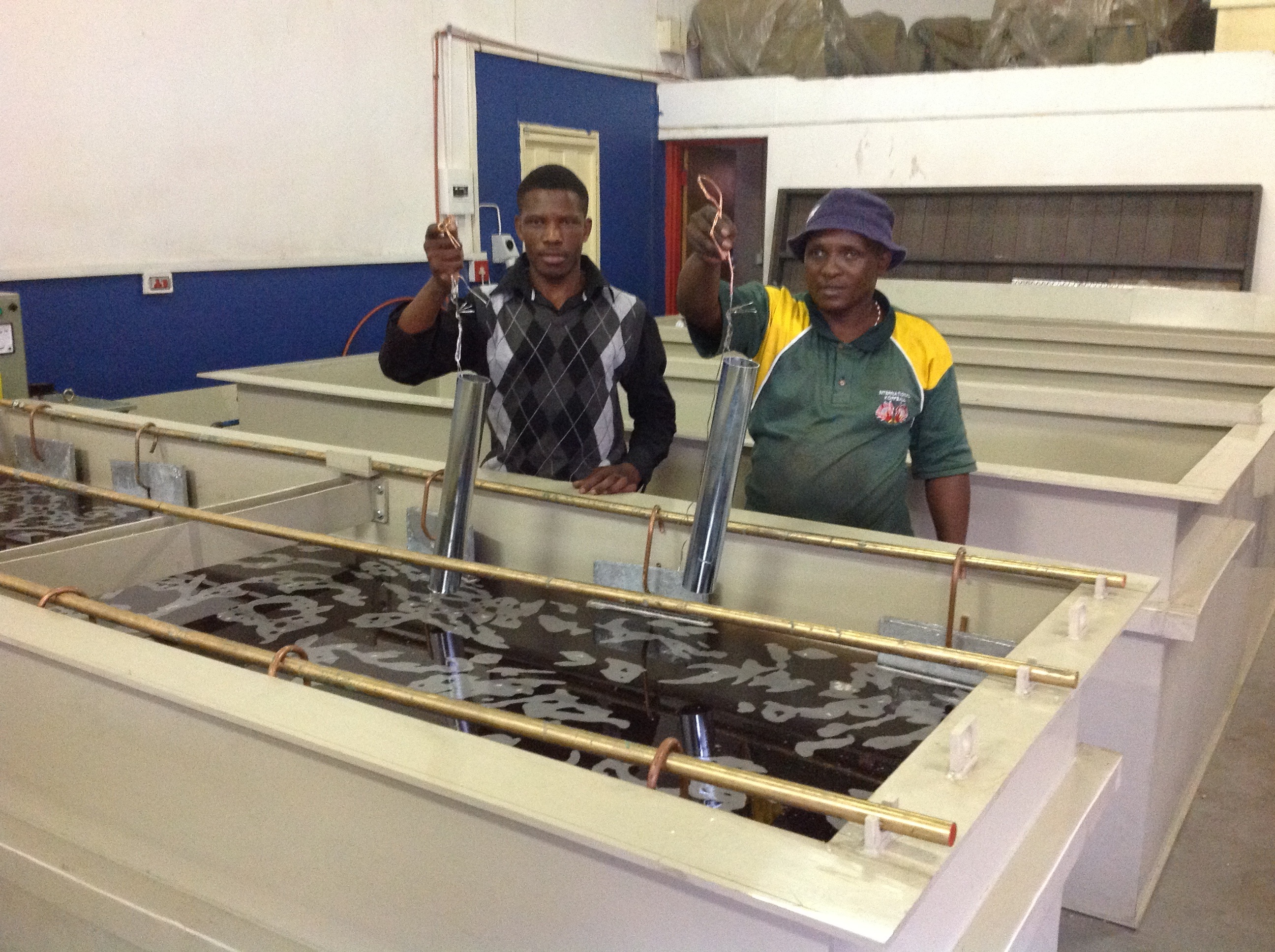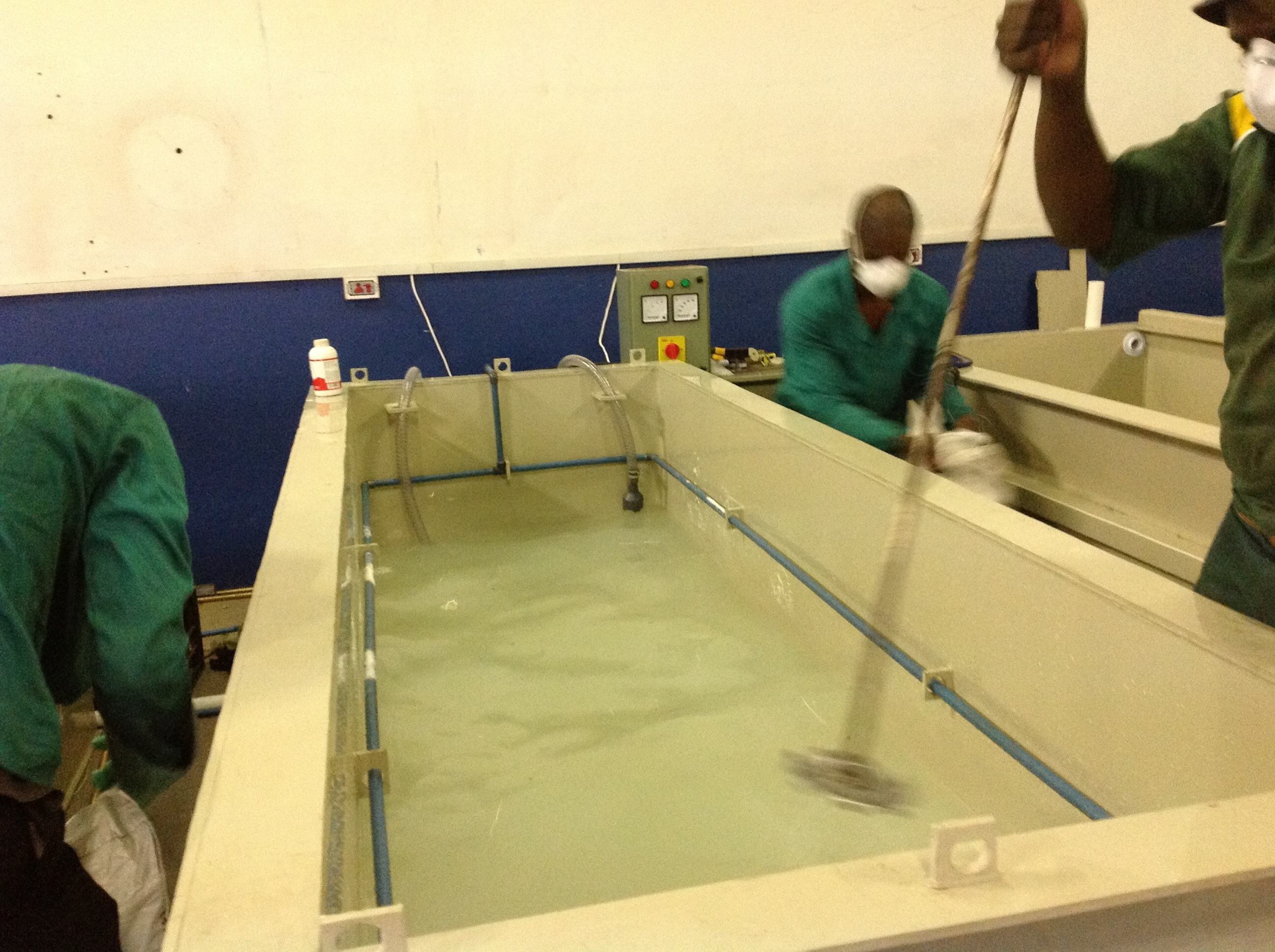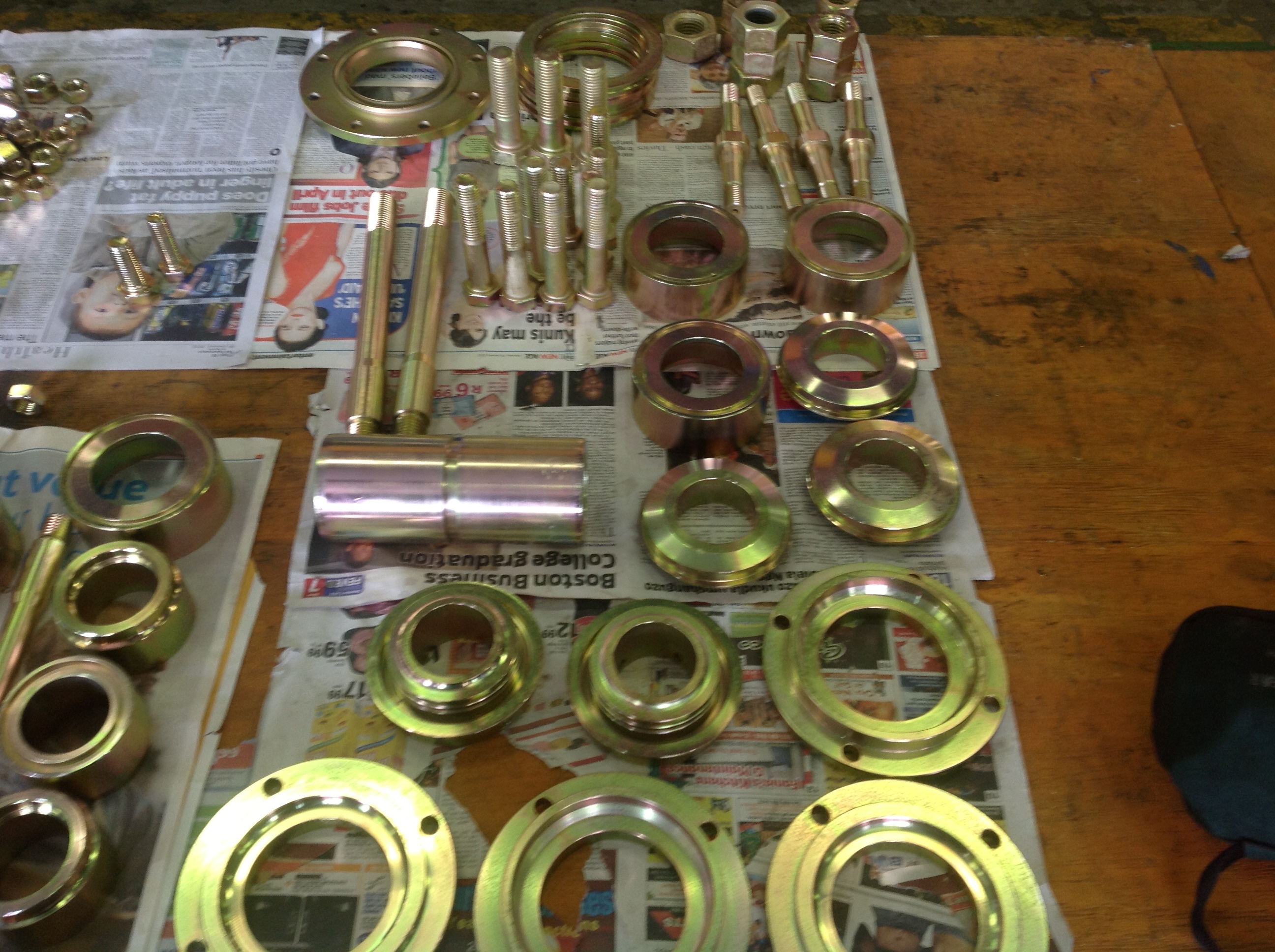 Example of quality that you can expect (zinc yellow)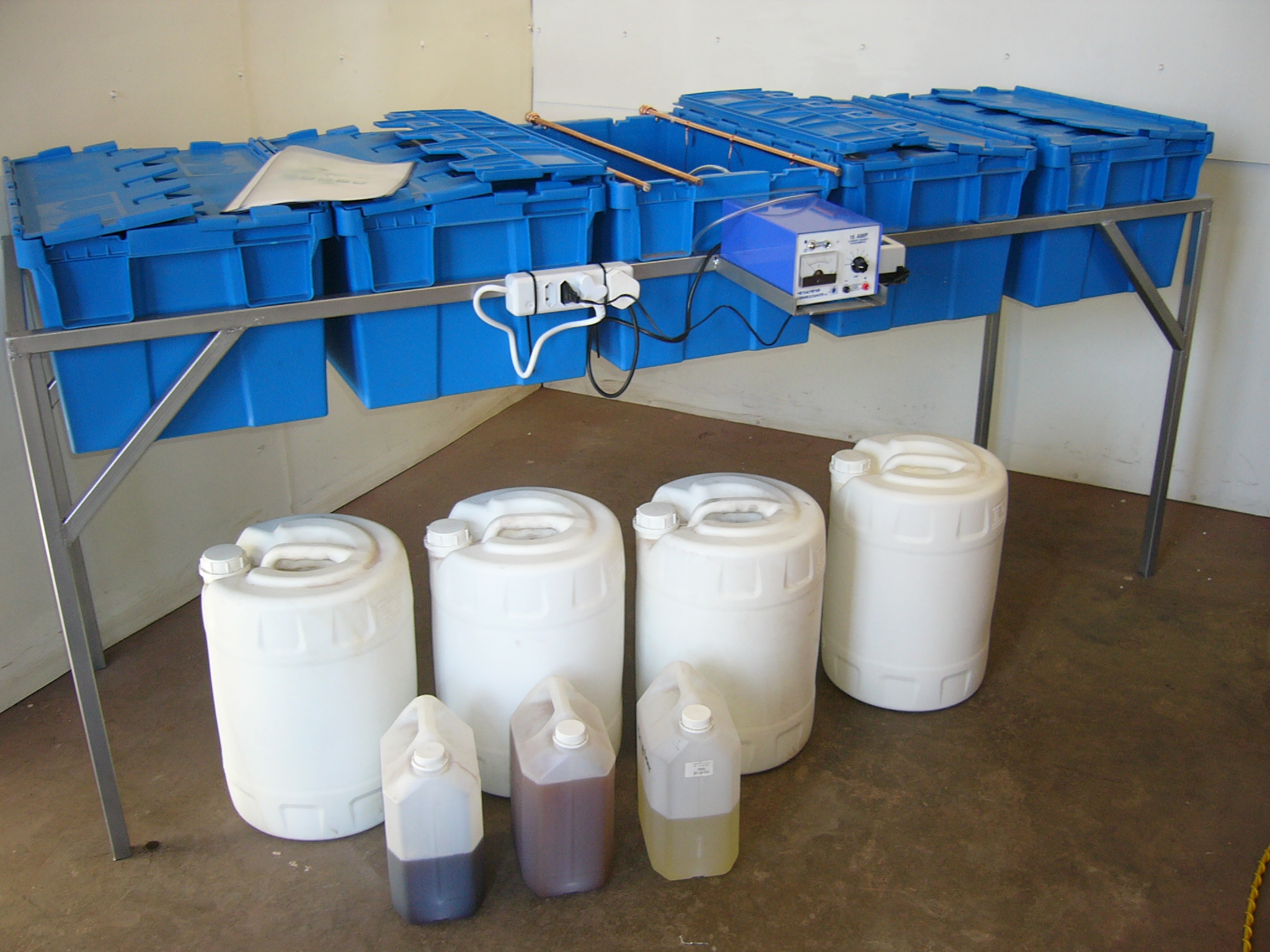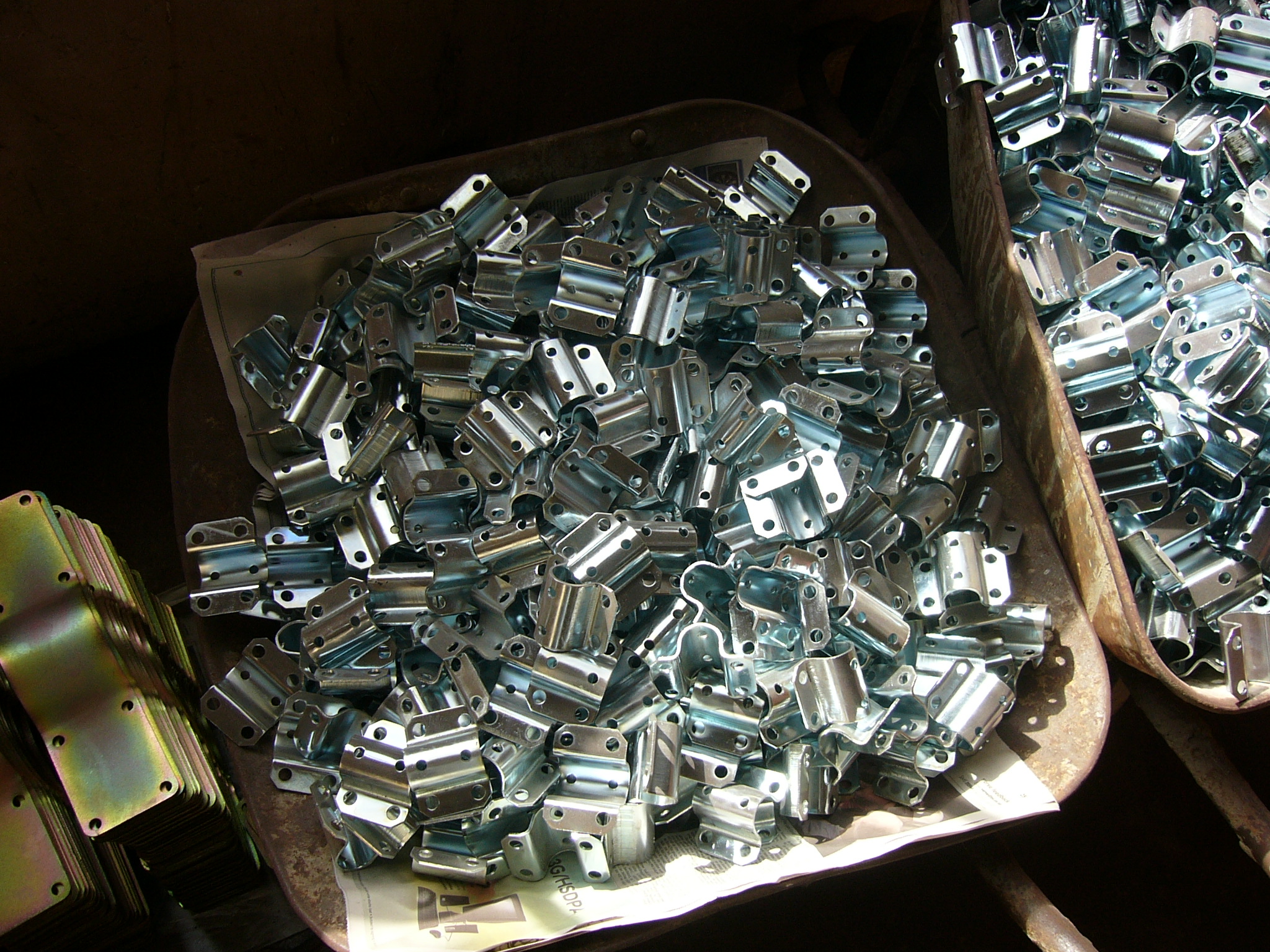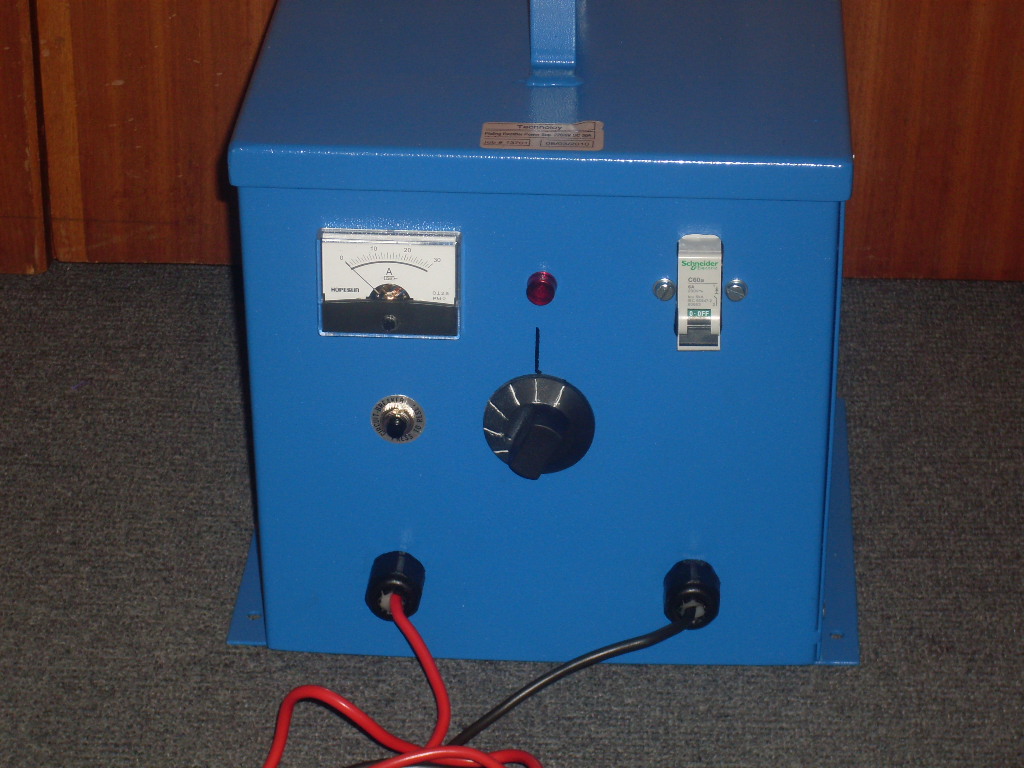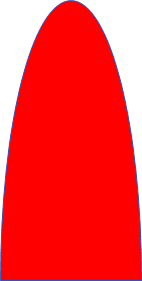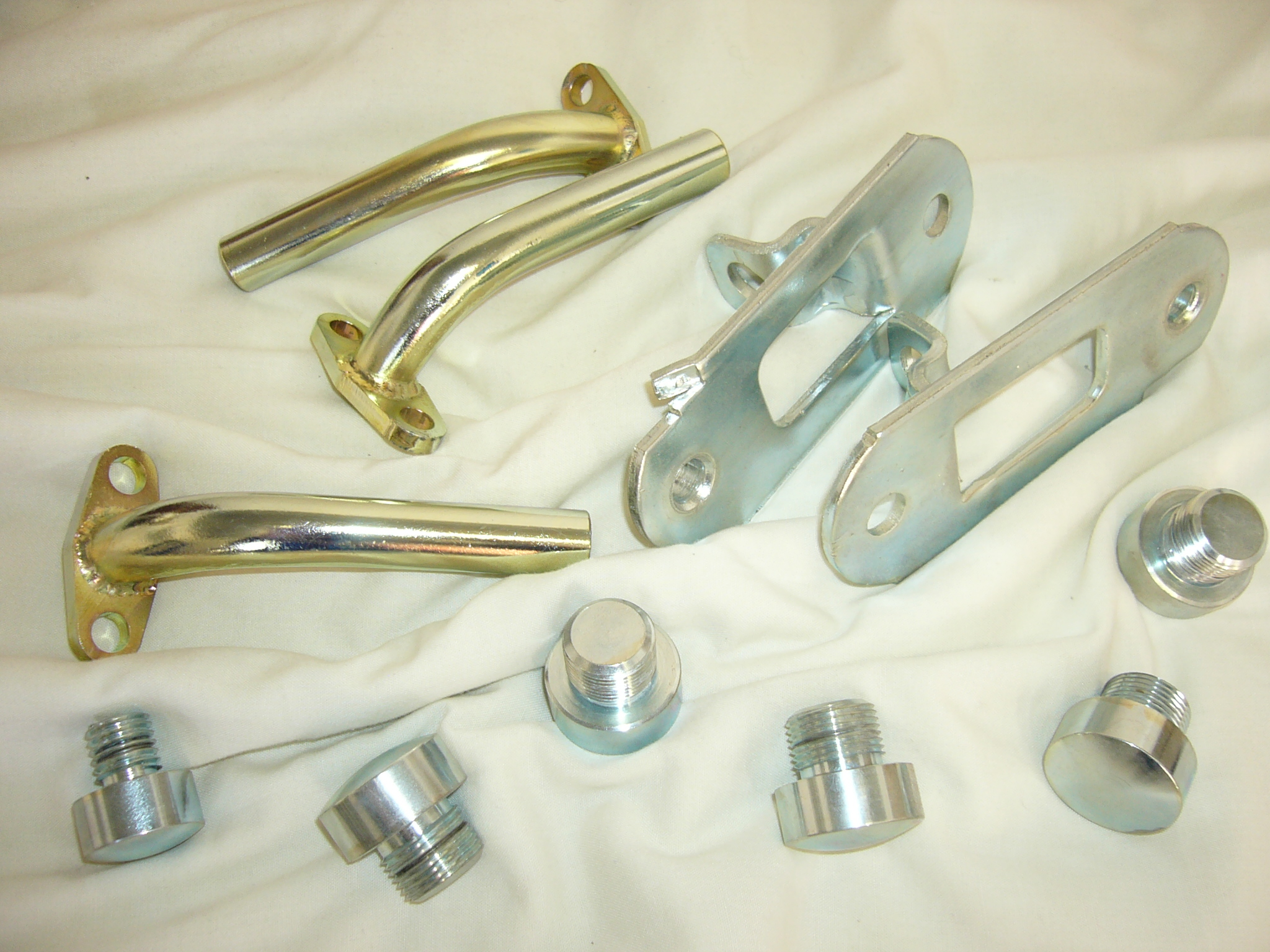 1 ZINC TANK KIT - 5 LITER

1 x 5 liter Tank
1 x 0 - 5 Volt, 15 Amp Rectifier
5 liters of Yellow Passivation
5 liters of Silver Passivation
5 liters of Zinc Solution
1 liter of Brightner
1 liter of Carrier
4 x Zinc Anodes
1 x Instruction Sheet

SMALL KIT - 10 LITERS

7X 10 liter Plating Tanks and stand
4X Zinc Anodes
3X Copper Buzz Bars
1X 5 Volt 15 Amp Rectifier, Cables & Clamps
1X Air Blower with fittings
10 liters of Bright Zinc Solution
10 liters of Blue Dip Passivation
10 liters of Yellow Passivation
1 liter of Brightner
1 liter of Carrier
10 liters of Acid Etch
Instruction Sheet

SAFETY LID INCLUDED!

MEDIUM INDUSTRIAL KIT - 25 LITERS

7X 25 liter Plating tanks and Tank Stand
6X Zinc Anodes
3X Copper Buzz Bars
1X 5 Volt 15 Amp Rectifier, Cables & Clamps
1X Air Blower with Fittings
25 liters of Bright Zinc Solution
25 liters of Blue Dip Passivation
25 liters of Yellow Dip Passivation
25 liters of Acid Etch Solution
5 liters of Brightner
5 liters of Carrier
Instruction Sheet

INDUSTRIAL KIT - 50 LITERS

7X Plating Tanks and Tank Stand
6X Zinc Anodes
4X Copper Buzz Bars
1X 5 Volt 30 Amp Rectifier, Cables & Clamps
1X Air Blower with Fittings
50 liters of Bright Zinc Solution
50 liters of Blue Dip Passivation
50 liters of Yellow Dip Passivation
50 liters of Acid Etch
5 liters of Brightner
5 liters of Carrier
Instruction Sheet


LARGE PRODUCTION PLANT
1500 LITER

9X Poly prop tanks SIZE: 2,5m X 1m X 600mm
All tanks reinforced with steel (covered with poly prop)
4X Stainless Steel Heaters (hot Rods)
3X Copper Buzz Bars with Cables
1X Air blower with Fittings
6X Zinc Anodes (Slabs)
1X Rectifier(3 Phase) 0-5 Volts, 500 Amp
50 liters of Brightener
50 liters of Carrier
1500 liters of Zinc Solution
1500 liters of Degreasing Solution
1500 liters of Acid Pickle
1500 liters of Blue Dip Passivation
1500 liters of Yellow Passivation
1 X Filter for zinc tank
All Plumbing and electrical

INCLUDING INSTALLATION AND TRAINING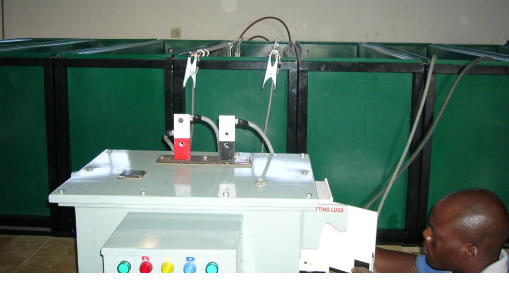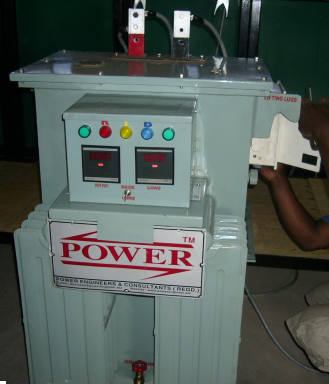 500 AMP RECTIFIER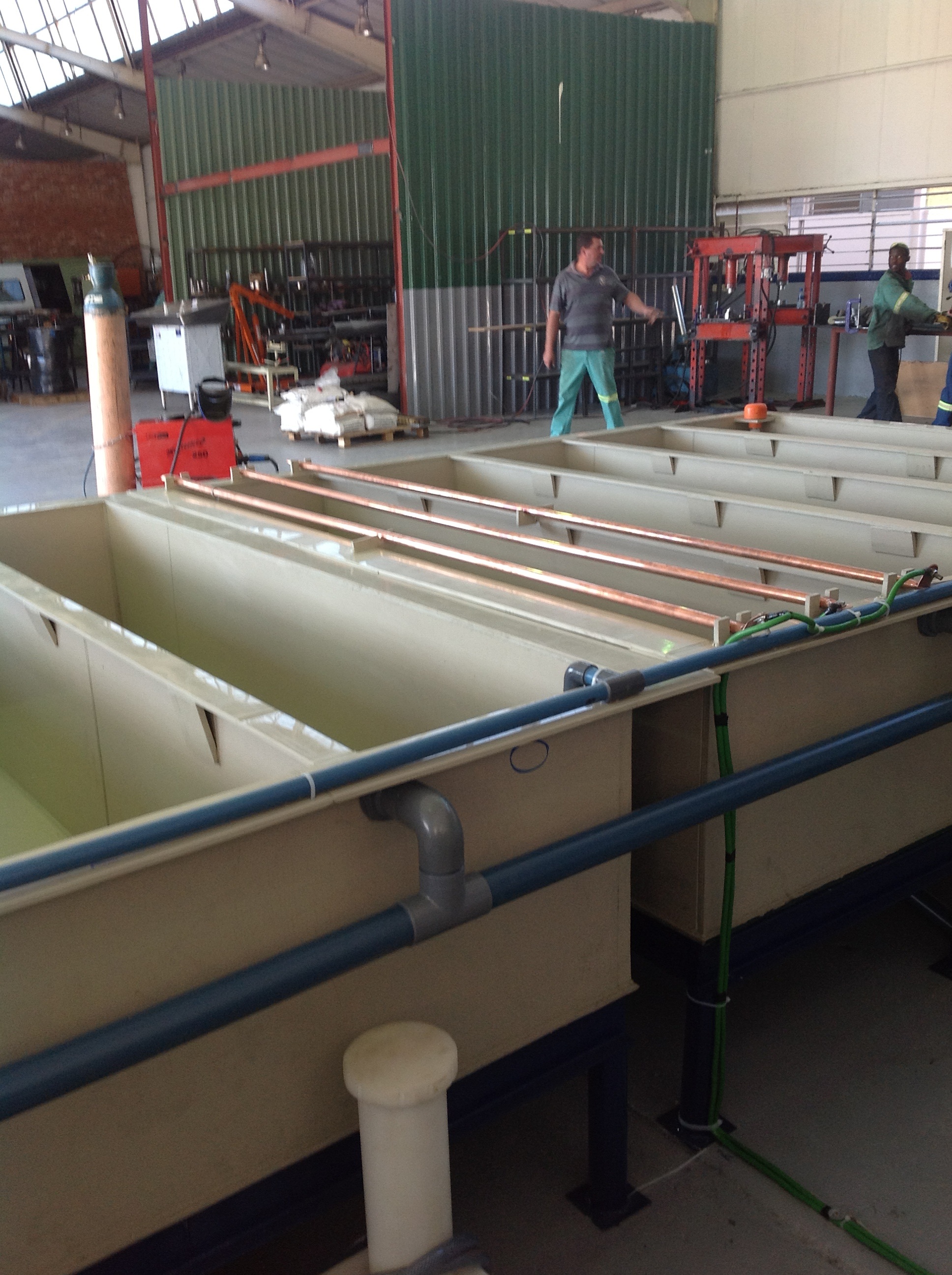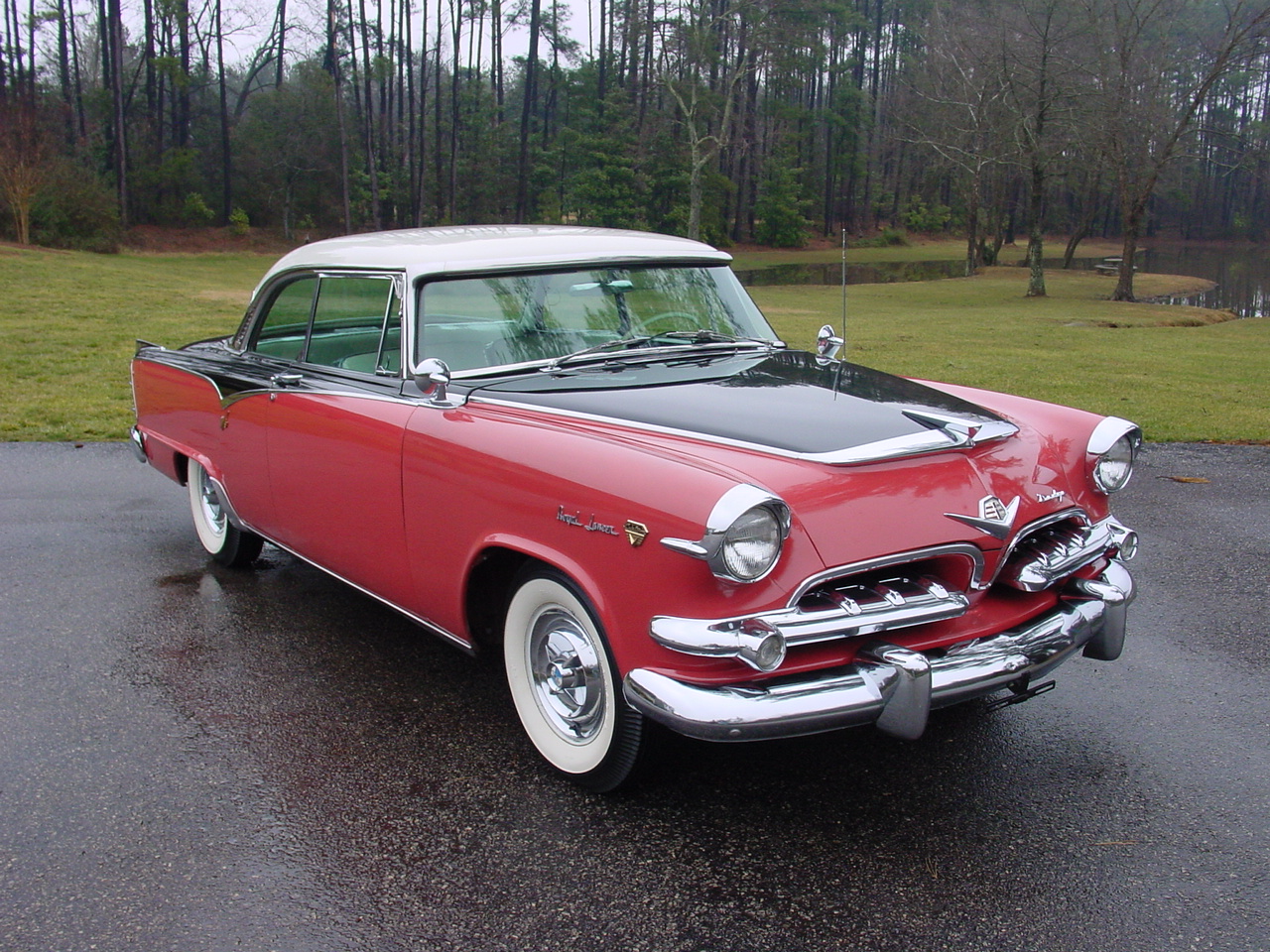 THESE SIZE KITS ARE AVAILABLE IN NIKCEL,TIN, BRASS AND COPPER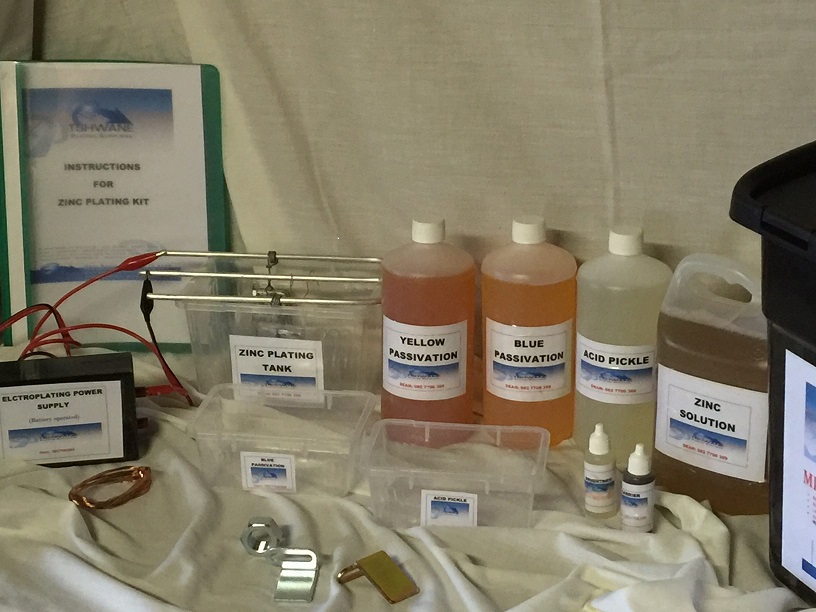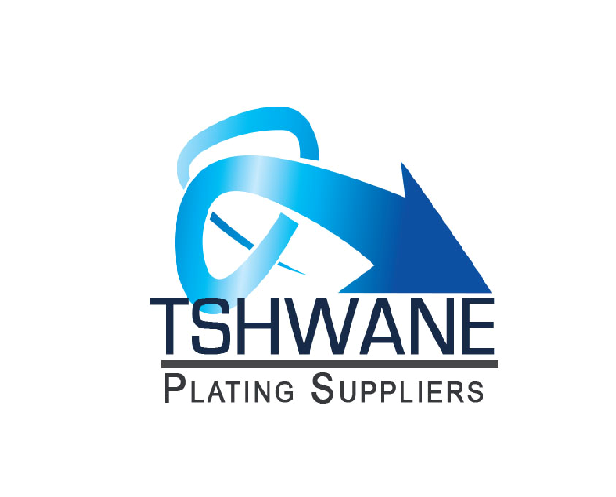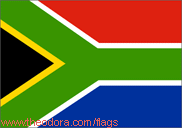 ONLY R2 800, 00
MINI ZINC KIT
2 liter

1 x Battery powdered rectifier
Batteries included
1 x Set of leads with clamps
3 x Copper buzz bars
2 x Zinc Anodes
1m of Copper jigging wire
1 liter of Zinc solution
2 liter Acid activator
1 liter of Yellow passivation
1 liter of Blue passivation
100 ml Brightner
100 ml Carrier
Instructions included